Starting Over
(Reproduced from Classical Music magazine 1 April 2006)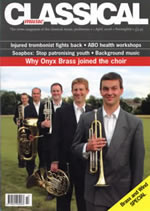 Mark Eager had played trombone every day of his life from age seven. But at 43, working as principal trombone of the BBC National Orchestra of Wales, suddenly he lost it. It was every player's nightmare, but beyond the pain and trauma lay a new career. Glyn Môn Hughes reports:
It could be the synopsis of a Hollywood blockbuster. A musician, wedded to his art, can no longer play. Sheer determination triumphs over adversity and, while his trombone sits silently in its case, the conductor's baton swirls around, propelling our hero along a new career path.
That hero is Mark Eager — formerly principal trombone of the BBC National Orchestra of Wales — and talking to him would make anyone complaining about Monday mornings, working late, supermarkets, traffic jams or any other stress of today's world, think again. His is an extraordinary tale which would have left most people bewildered, angry, resentful, even bitter.
But he's taken it in his stride and, as a committed Christian, sees it as God's will, the Almighty's way of saying 'enough of that: now try this'.
'I've played the trombone since I was seven,' says Eager. 'I was brought up in a world of music, in the Salvation Army. There, music is central to worship, starting on a Friday night and lasting through Saturday and Sunday. My grandparents and parents played and sang, so it seemed natural I should follow.'
Eager became principal trombone of BBCNOW in 1993 — 'my dream job' — having graduated from the Royal Academy of Music in 1984. Before moving to Cardiff, he worked as a trombonist with London orchestras, opera and ballet companies, as well as in West End theatre.
He also played in the Salvation Army Band at Regent Hall but his first major solo experience came at the academy, persuading conductor Cohn Metters to programme Gordon Jacob's demanding concerto.
'Many professors had never heard the solo trombone as a concerto instrument,' says Eager.
Once he joined the BBC, he not only featured regularly as soloist, but also attracted composers such as John Pickard and Alun Hoddinott to write concertos for him. Pickard wrote The Spindle of Necessity in 1998, while the Hoddinott concerto followed in 2004. There's little doubt, too, that in a musical world sparsely populated with trombone soloists, Eager could count himself as one of the top five performers in the world.
'I was very privileged that such eminent composers wrote especially for me,' he says. 'I also performed the Nyman concerto — a real battering for the face.'
And therein lies the whole problem: the 'battering' a musician undergoes. All the time Eager practised and performed, he was doing damage which proved, ultimately, potentially irreversible. 'I gave successful performances which set a precedent. Indications were everything was all right.' But things were definitely not all right.
'The sheer volume we must produce, certainly playing for a BBC orchestra, is probably ten times what it was 20 years ago, says Eager. 'That's partly because instruments have become bigger. In the 1950's, trombones were smaller, with smaller bells and bores. In the 1960s, American instruments started appearing. They were much bigger and, as a result, orchestras started getting louder. Just imagine the increased air pressure going through the face of a brass player.'
Add to that the number of performances expected of orchestras, particularly BBC ensembles, which appear busier than ever with principals often expected to take on soloist roles. 'I question whether it is right to expect someone to play full time and take on solo work. Pressures really are intense. That Hoddinott concerto involved a great deal of work. In sheer stamina terms, it was very difficult. But both he and I wanted to push boundaries. We didn't want the piece to end up on a syllabus for grade 8 or a diploma.
'I worked on the piece between March and May 2004, just the time we had a number of very big concerts with BBCNOW. We did Walton One, a big blow for brass. We also did the Mozart Requiem, also demanding. I recorded Making Tracks for Radio 3 and played in the soundtracks for Harry Potter and Star Wars, film music with prominent brass parts.
'That's the point my face started to ache, particularly my right cheek.'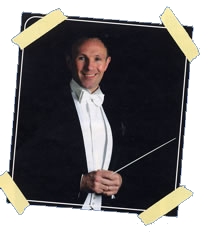 Eager would spend all day rehearsing or recording with BBC NOW then go home and work on the Hoddinott for another four hours. 'With the work I was doing, I expected my face to ache. In hindsight, I should have said I could not do it — not something a player says. I'd played for years and found it easy. I had the textbook embouchure and was doing everything right — so I thought. 'Once I'd done the Hoddinott, I went back to my normal practice regime and expected everything to go back to normal. It didn't. It went the other way. If you run a marathon your legs ache for a day or so, then everything's normal again. My face didn't stop aching after my marathon period of playing. Instead, the pain intensified.'
Eager's problems grew through summer, especially as BBC-NOW's Proms involved performances of Dvorák's opera Dmitri and Holst's Hymn of Jesus — which starts with two unison trombones — plus Elgar's Cockaigne Overture and Enigma Variations.
'To colleagues and conductor, all was well. Only I knew something was amiss. Back in Cardiff the following Monday, we were halfway through Mahler Two and I had to tell the orchestra manager I simply could not play. The middle and lower registers became more difficult. But with holidays coming up, I knew I'd have three weeks to get better. I decided not to play and, talking to other trombonists, they all felt — theoretically — the mechanism of what I was doing would work.'
As it turned out, Eager's last concert with BBCNOW was in September 2004. It turned out to be another demanding work —Wagner's Tannhãuser Overture.
'Lower in the register, I realised things were far from right,' he says. A gruelling series of medical consultations followed, with medics in London diagnosing focal dystonia — an apparently common ailment amongst musicians — and saying the best way to overcome the problem was to carry on playing.
'By January I could not get a note out of the trombone. Only when I went to a local physiotherapist, who had a sports background, did things begin to move in the right direction. She felt it was not dystonia but physical damage to facial muscles. In March, Professor Michael Lewis, an oral surgeon at the University of Wales Hospital, agreed it was muscle damage and put me on a series of muscle relaxants.
'My next port of call is to see a speech therapist who may help me get some of the muscle control back. I really do firmly believe I will play again. It will come back — maybe in three to five years' time. Most doctors, though, simply did not understand what I was going through. Even an educated GP didn't understand that being an expert trombonist is a whole career path and they simply had no understanding of the mental trauma I suffered. I'd played every day from the age of seven until, at 43, I could do it no longer.
Against all this, Eager had to find an alternative career. 'I've been steeped in music since a child and could not think of leaving. The only selfish thing I did through this episode was say I could not possibly take a sit-down, nine-to-five job. The stress of not being able to do what I've done all my life took its toll but I think — I hope — I maintained a positive outlook. I now realise I was being pushed in a direction I never realised I might take.'