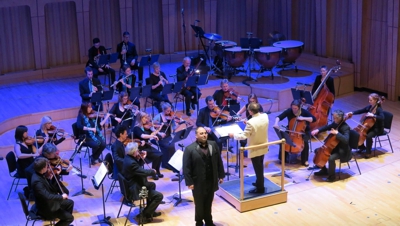 The Welsh Sinfonia and Wynne Evans
The Welsh Sinfonia
"The orchestra produced a light and extremely well balanced sound and captured the character of the piece perfectly"- Messiah Review 3rd December 2010 Western Mail
"This was a fine opening and a sure-footed demonstration of the abilities of orchestra and conductor alike" – Concert Review Western Mail, 14th March 2010
"This was not only a highly enjoyable concert but a great performance by the Welsh Sinfonia." – Eight Seasons Review, 10th October 2010 Western Mail
I am particularly impressed with the Welsh Sinfonia's programme of education and outreach projects, engaging young people with an enthusiasm for instrumental music and presenting chamber orchestral music, of an international standard, in areas of Wales where opportunities to hear such productions are rare." The Minister for Heritage, Alun Ffred Jones, September 2009
The Welsh Sinfonia is a Cardiff-based professional chamber orchestra of between 15 and 35 musicians, conducted by Mark Eager, and led by Robin Stowell. After 20 years of serving Welsh choirs and choral societies, the Welsh Sinfonia was relaunched in September 2009 with the vision of becoming the National Chamber Orchestra of Wales.
As a compact and flexible ensemble, the Welsh Sinfonia aims to bring chamber music to the whole of Wales: reaching smaller venues and areas where live classical music provision is limited. The orchestra delivers exciting and vibrant performances, exploring the ever widening but little known orchestral chamber music repertoire. It combines a prestigious 'Cardiff Series' of concerts, touring and a successful, engaging and interactive education programme.
The Welsh Sinfonia is committed to commissioning and premiering new works, most recently from Damian Rees 'Happily Ever After', Eilir Owen Griffiths 'The Emoticons of Time' (Percussion Concerto) and Rhian Samuel 'The Path through the Woods' (Recorder Concerto). There are developing links with emerging Welsh musicians including the Official Harpist to the Prince of Wales Claire Jones, Percussionist Dave Danford and world-renowned recorder soloist Pamela Thorby. The orchestra also fosters the talents of graduates from the RWCMD, as well as offering an internship to a student on the Masters course in arts management. Lucy Campion currently holds this post.
Opportunities to hear regular professional performances of works for chamber orchestra are rare in Wales and The Welsh Sinfonia is an important champion of this rich and diverse repertoire.